Taco Bell Strong; Yum Mixed
Thursday, November 1, 2018
Share this article: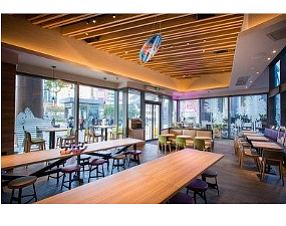 Irvine-based Taco Bell Corp. sales rose 8% to $2.6 billion in its most recent quarter, making it the top-performing chain in Louisville-based parent company Yum Brands Inc. (Nasdaq: YUM) portfolio for the period.
Among Yum's other chains, KFC reported a 7% increase in quarterly sales and Pizza Hut was flat. Yum sales grew 5% overall.
Operating profit at Taco Bell climbed 10% to $161 million and same-store sales were up 5%. The increases beat results for KFC, Pizza Hut, and Yum overall.
The only decline for Taco Bell in the quarter was in operating margin, down about 2 percentage points to 31.5%.
Taco Bell in the quarter opened 59 new locations, including 22 internationally—a focus for the brand right now—and refranchised 46 locations.
Yum recorded a $94 million pre-tax gain on its $200 million investment in GrubHub Inc. (NYSE: GRUB). It bought 3% of the Chicago-based delivery company in February when its shares were about $85; shares hit about $130 at the end of the quarter and have since declined to about $95 apiece.
Delivery services have taken off in the restaurant industry and Yum's investment has been noted as a way for its own brands to profit not just from increased offsite sales but from the food delivery category itself.