October Auto Sales Mixed
Thursday, November 1, 2018
Share this article: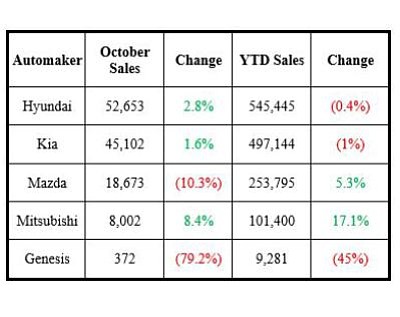 Sales by OC automakers were mixed in October with three of the five local companies reporting an increase.
Hyundai Motors North America, Kia Motors North America and Mitsubishi Motors North America reported growth while sales for Genesis and Mazda North American Operations declined by double-digits.
Mazda in Irvine sold 18,673 units, down 10% year-over-year. It reported year-to-date sales of 253,795, up 5.3%.
Sales of luxury vehicle maker Genesis in Fountain Valley dropped 79% to 372 units while year-to-date sales declined 45% to 9,281 vehicles.
Hyundai sold 52,653 units last month, up about 3%, bringing its total sales for the year to 545,445.
Irvine-based Kia Motors rose 1.6% to 45,102. Sales were down 1% to 497,144 for the year.
Mitsubishi reported an 8.4% increase selling 8,002 units and year-to-date sales rose 17% to 101,400 units.