El Pollo Loco 3Q Sales, Profit Rise
Thursday, November 1, 2018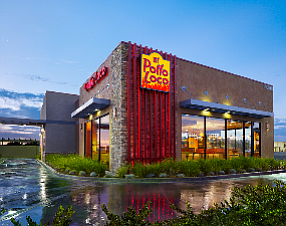 El Pollo Loco Holdings Inc. (Nasdaq: LOCO) in Costa Mesa reported third quarter net income of $6.8 million on revenue of $106.7 million, compared with a loss of $4 million on revenue of $101.2 million in the same period a year ago.
The fast food chicken chain narrowed its annual forecast for adjusted profit from 68 cents to 73 cents to 70 cents to 73 cents. It also indicated systemwide comparable restaurant sales might grow by boosting its forecast from flat to flat to 1% increase.
The 2017 quarterly loss included a $16 million charge on the assets or closure of 13 restaurants. Non-GAAP pro forma net income in the most recent quarter was $7.6 million, compared with $6 million for the same period last year.
Systemwide same-store sales grew 2.6% in the quarter.
Shares rose more than 20% in Friday trading to a market cap of nearly $600 million. Loco stock is up some 60% since a 52-week low in February.