ANNETTE WALKER TO HEAD CITY OF HOPE OC IN JULY
Opting for Hope
Thursday, May 31, 2018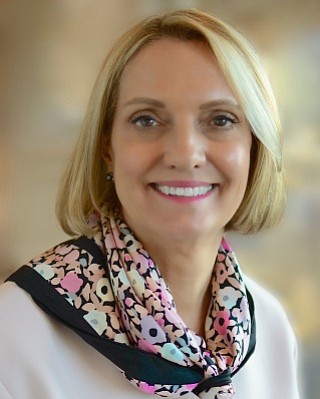 The uniqueness of City of Hope's new cancer center in Orange County speaks for itself—the project certainly caught Annette Walker's attention.
The president of strategy at Providence St. Joseph Health said she'll end her role with the Renton, Wash.-based health system on June 9 to take on the presidency of City of Hope, Orange County in early July.
Her rationale for leaving oversight of 51 hospitals across seven states for one local cancer center: "You go through life, and you have these opportunities, and as you grow and understand where you make the biggest contribution … This is that opportunity, to bring the best cancer care to OC."
Walker leads strategy, business development, marketing, communications, project management and wellness functions at Providence, the country's second-largest health system. She's been with St. Joseph Health for 13 years, which merged with Providence in 2016, and was named one of the 25 most influential women in U.S. healthcare in 2017 by Modern Healthcare magazine.
Cancer Center
The cancer center, City of Hope's first in OC, will be at Great Park Neighborhoods in Irvine, a 1,300-acre mixed-use project of Five Point Holdings LLC (NYSE: FPH) that blends residential, commercial, education and entertainment uses. Five Point is the publicly traded parent of the Aliso Viejo-based master developer.
The joint venture is donating the land for the 70,000-square-foot cancer center. The approximately $200 million project will house leading-edge technologies—"radiation, advanced imaging diagnostics, a women's center, infusion and supportive services, including genetic counseling," said City of Hope Chief Executive Robert W. Stone. He said it will also offer preventative education, including wellness and nutrition advice, to the homes and community, "so you have the ability to impact lives before they are even diagnosed with cancer."
The center is part of Five Point's 18-acre medical campus, which will include a general outpatient clinic, medical offices, a senior housing/assisted living facility, homes for care providers, and an area for religious/spiritual use. It will also have a hotel for patients who need extended care and their families, as well as restaurants.
"I want to elevate the healthcare experience by partnering with the best-of-breed brand," said Five Point Chairman and Chief Executive Emile Haddad, noting that City of Hope is "one of those brands that I was desirous of having in my community."
Stone and Haddad met through a mutual acquaintance.
"We didn't have anything on the drawing board," said Stone, recalling their first meeting. "We just talked about how can we serve the people of Orange County who have been diagnosed with cancer."
City of Hope treats people with cancer, diabetes and other serious illnesses. It's one of 49 comprehensive cancer centers in the country as designated by the National Cancer Institute.
Serving a Need
Project financing hasn't been laid out, but Stone said OC's philanthropic community is behind the outreach.
He said Walker will have full control in driving development of the project, as well as future locations. She'll also work to strengthen relationships City of Hope has built with patients, volunteers and philanthropic supporters.
"This is not a role I went out and advertised for and looked at multiple people—I designed the role for Annette Walker," Stone said, adding that she "will be the architect to what we are growing here."
"[City of Hope's] mission called to me to extend my personal mission to the community I call home," Walker said. The Business Journal OC 500 honoree wrote in her questionnaire for the listing of influential people that she's passionate about providing healthcare to the entire community, especially the poor and vulnerable.
Her hero? Joan of Arc, because she was "brave and passionate."
City of Hope has 29 locations in its clinical network in Los Angeles, Ventura, Riverside, Orange and San Bernardino counties. Its local prescence is comprised of radiation therapy at St. Joseph Hospital Orange and St. Jude Medical Center in Fullerton.
The provider is open to partnering with local hospitals. "We are an outpatient center, so we don't have any beds," Stone said.
He said that while Walker will first work with experts and City of Hope's existing team of "tremendously talented colleagues, doctors and nurses," it will hire a local team of care providers.
"For something this important, we need to have dedicated people who live and breathe OC."
Redefining Access
City of Hope isn't alone in its laser cancer focus, Mission Hospital in Mission Viejo is in the game with its own outpatient cancer center play. Its four-story 104,500-square-foot facility is a 50-50 joint venture between the hospital and senior housing-focused real estate investment trust Welltower Inc. (NYSE: HCN) that will be at the Shops at Mission Viejo, a regional mall of shopping mall REIT Simon Property Group Inc. (NYSE: SPG). The project is slated to be done next year.
Welltower is based in Toledo, Ohio, Simon in Indianapolis, Ind.
Mission Hospital Chief Executive Tarek Salaway told the Business Journal in an interview this year that the cancer center "is driven by the needs of South Orange County"—an estimated 60% of residents leave the area to get cancer treatment in Los Angeles or other parts of the country.
Whether the partner is a REIT or developer, strategic partnership is key.
For Walker, July is homecoming time. She said the best way to sum up the transition is a quote by Dorothy in "The Wizard of Oz"—"There's no place like home."