Midday Stock Roundup
Thursday, May 31, 2018
Share this article: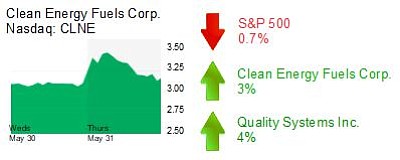 The S&P 500 was down 0.7% in midday trading to 2,705.51.
The Dow Jones Industrial Average declined 1% to 24,415.84.
The Nasdaq was down 0.2% to 7,445.15.
The yield on a 10-year Treasury bond ticked down 0.1% to 2.84%.
The price of gold was 0.1% lower at $1,305.
HEALTHCARE
Edwards Lifesciences Corp. (NYSE: EW) in Irvine was flat in midday trading after a 1% bump earlier to a $29 billion market cap. Raymond James initiated coverage on shares in the heart valve maker with an "outperform" rating and a $152 price target.
Quality Systems Inc. (Nasdaq: QSII) in Irvine was up 4% to $17.65 and a $1.1 billion market cap. Shares in the maker of medical practice management software were upgraded to "overweight" at Cantor Fitzgerald, with a $21 price target, up from $15.
REAL ESTATE
Sunstone Hotel Investors Inc. (NYSE: SHO) in Aliso Viejo was flat after an earlier uptick to about 0.5% and a $4 billion market cap. Jefferies initiated coverage on the hotel REIT with a "hold" rating and a $17 price target.
TECHNOLOGY
Clean Energy Fuels Corp. (Nasdaq: CLNE) in Newport Beach were up 3% to $3.20 and a $487 million market cap. Shares in the operator of natural gas fueling stations are up about 28% on the week.