Midday Stock Roundup
Tuesday, May 29, 2018
Share this article: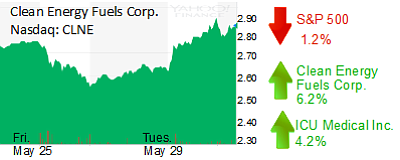 Markets declined in midday trading on fears that an Italian political crisis may affect Europe's common currency.
The S&P 500 was down 1.2% in midday trading to 2,688.13 while the Dow Jones Industrial Average fell 1.5% to 24,377.23 and the Nasdaq dropped 0.6% to 7,393.14.
The yield on a 10-year Treasury bond declined 4.2% to 2.81%.
The price of gold was down 0.2% to $1,301.
TECHNOLOGY
Newport Beach's Clean Energy Fuels Corp. (Nasdaq: CLNE) rose 6.2% to $2.79 and a $426 million market cap. Shares of the operator of renewable natural gas fueling stations have more than doubled since a 52-week low in March.
HEALTHCARE
ICU Medical Inc. (Nasdaq: ICUI) increased 4.2% to $288.27 and a $5.9 billion market cap. ICU is in early stage talks about a combination with the medical division of the British engineering firm Smiths Group Plc.