ICU Talks Merger with Smiths Unit
Tuesday, May 29, 2018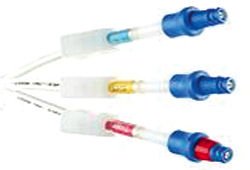 British engineering firm Smiths Group plc (LON: SMIN) confirmed it is in "very early stage discussions about a potential merger of its medical division with ICU Medical Inc. (Nasdaq: ICUI)," according to a company press release.
San Clemente-based ICU is a pure-play infusion therapy company. Its product portfolio includes IV solutions, IV smart pumps, IV sets and needle-free connectors.
Smith Medical, the company's largest unit, is focused on infusion systems, vascular access and vital care devices. Revenue at the division fell 4% to $600 million for the first half of the year, due to delays to new product launches.
London-based Smiths also has four other divisions: security and defense, general industrial, oil and gas, and space and commercial aerospace.
Sky News and the Financial Times had reported earlier on Sunday that the two companies were in talks. Shares of ICU climbed more than 4% since the news broke, trading at $288 per share for a $5.8 billion market cap. Revenue for the first quarter reached $372 million, more than doubled from the same period a year prior.