Disney Begins $100M Parking Structure
Tuesday, May 29, 2018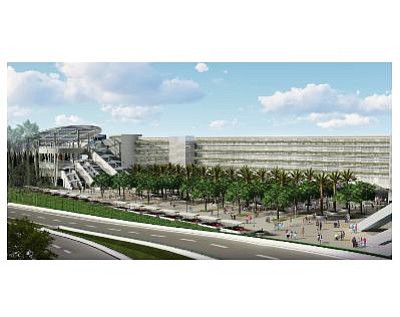 Disneyland Resort has begun building a 6,500-space parking structure valued, according to permits, at $100 million, and part of the park's' $2 billion expansion, which also includes a fourth hotel and Star Wars: Galaxy's Edge.
The six-story structure is scheduled, like the new Star Wars-themed land, to open next year. It's called Cleo in permits, after Geppetto's pet goldfish in Pinocchio, but a Disneyland spokesperson said via email that a final name hadn't been chosen yet.
It will add about 2.3 million square feet of parking next to an existing structure, Mickey & Friends, and replaces the Pinocchio surface lot.
Cleo is north of Downtown Disney—which is also undergoing renovations and changes, including new shops and the departure of an AMC theater complex, which is moving to GardenWalk—on Disneyland Drive.

The contractor is Bomel Construction Inc. in Irvine. News of the final permits being issued earlier this month was on construction industry website BuildZoom.