Midday Stock Roundup
Wednesday, May 23, 2018
Share this article: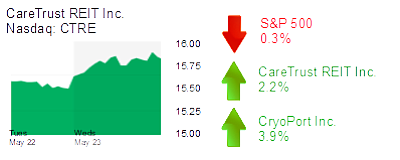 The S&P 500 was down 0.3% in midday trading to 2,716.91.
The Dow Jones Industrial Average declined 0.4% to 24,736.43.
The Nasdaq dropped 0.1% to 7,373.27.
The yield on a 10-year Treasury bond dove 1.4% to 3.02%.
The price of gold was down 0.2% to $1,289.
HEALTHCARE
CareTrust REIT Inc. (Nasdaq: CTRE) in San Clemente was up 2.2% to $15.83 and a $1.2 billion market cap on high volume. The health facility owner had by midday traded shares at double its 90-day average.
CryoPort Inc. ((Nasdaq: CYRX) in Irvine was up 3.9% to $10.16 and a $281 million market cap. It ships life science materials cryogenically.
TECHNOLOGY
Veritone Inc. (Nasdaq: VERI) in TK was down 7.8% to $19.76 and a $321 million market cap. It does media buying and makes AI software.
Lantronix Inc. (Nasdaq: LTRX) in Irvine was up 4.5% to $3.04 and a $55 million market cap on very high volume. Shares in the Internet of Things products maker had by midday traded at a rate four times its 90-day average and have tripled in value over the last two years.