Midday Stock Roundup
Tuesday, May 15, 2018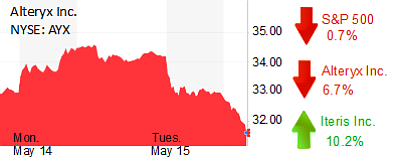 The S&P 500 declined 0.7% in midday trading to 2,711.61.
The Dow Jones Industrial Average fell 0.8% to 24,693.94.
The Nasdaq dropped 1% to 7,338.77.
The yield on a 10-year Treasury bond jumped 2.5% to 3.07%.
The price of gold was down 2% to $1,291.
TECHNOLOGY
Alteryx Inc. (NYSE: AYX) fell 6.7% to $31.96 and a $1.94 billion market cap. The Irvine company yesterday announced it will sell $200 million of convertible senior notes due 2023 in a private offering.

Santa Ana-based Iteris Inc. (Nasdaq: ITI) rose 10.2% to $5.49 and a $181 million market cap. Volume of 805,152 was four times the daily average of the past three months. A recent report showed short traders have 10 days to cover as of April 30, double the amount of days from April 13.
San Clemente-based ReShape LifeSciences Inc. (Nasdaq: RSLS) was off $0.04 to $0.45, a loss of 8%. It's market value is now $15.1 million, shares down 90% over the last year. The medical-device maker is seeking FDA and international-regulators' approval of several products for weight loss. It posted a wider-then-expected 1Q loss of $11.2 million.