Ex-Allergan Aesthetics Unit Head Joins Evolus
HEALTHCARE: WANTS TO MAKE DRUG BIG-BRAND CONTENDER
Tuesday, May 15, 2018
Share this article: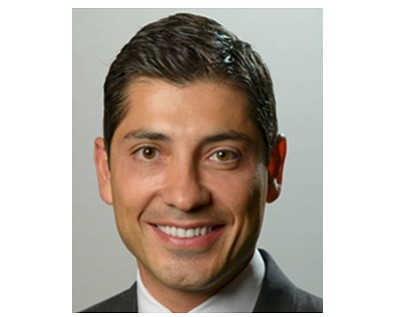 Wall Street is pleased with Evolus Inc.'s (Nasdaq: EOLS) new president and chief executive, David Moatazedi, as shares of the company shot up more than 40% since the news broke on May 7. No wonder, given the new chief's resume—he was most recently senior vice president of U.S. medical aesthetics at Allergan PLC.
"I was at Allergan for 13 years … I learned a lot about the aesthetics space and the tremendous potential, despite the fact of such high growth," said Moatazedi, noting that when he joined Allergan, its cosmetic unit had a single product: Botox.
He pointed out that only one in 10 patients considering getting a Botox treatment is being treated today and that there's "tremendous potential" to tap the remaining 90%. The global aesthetic neurotoxin market generated an estimated $1.8 billion last year and is projected to grow to approximately $2.3 billion by 2020, the company said.
The Irvine-based medical aesthetics company's first product, DWP-450, an injectable neurotoxin targeting moderate to severe frown lines between the eyebrows, is pending regulatory approval. The drug produces similar cosmetic effects to Botox'.
The company submitted the indication for Food and Drug Administration approval in July.
The Toxin Game
Allergan leads the pack in facial injectables, holding more than 45% of global market share, according to a report by Research and Markets.
"I look at the other toxins after Botox—competitors [like] Dysport and Xeomin—and those weren't really alternatives to Botox," Moatazedi said.
While Botox, Dysport and Xeomin are used as facial injectables that temporarily alter nerve impulses of targeted muscles and thereby reduce or eliminate contraction-induced wrinkles, they differ in onset speed, diffusion, strength and duration.
Moatazedi said DWP-450 is the "first molecule that is a Botox alternative" and not a competitor "with compromise."
Dysport is developed by French pharmaceutical maker Ipsen SA and marketed in the U.S. by Medicis Pharmaceutical, a subsidiary of Bridgewater, N.J.-based Valeant Pharmaceuticals International Inc. Xeomin is made by Merz Pharma GmbH & Co. KGaA.
Moatazedi said he admires athletic-wear brand company Under Armour Inc., an early adopter of the athleisure apparel trend that went from being an underdog brand to being viewed as a competitor to established brands, such as Adidas AG and Nike Inc.
Moatazedi, who spoke with the Business Journal after "just 48 hours on the job," said Evolus has a quality product with brand recognition that can benefit from being very nimble and customer-centric.
Allergan appointed Carrie Strom to replace Moatazedi as senior vice president of U.S. medical aesthetics, reporting to Chief Commercial Officer Bill Meury.
Strom joined Allergan in 2011, most recently serving as vice president of marketing for plastic surgery and regenerative medicine. She was also vice president of marketing for SkinMedica, leading the skincare product brand's new e-commerce platform.
Creating Demand
Evolus' primary market is self-pay healthcare, where doctors sell medical products to consumers or use them in procedures that aren't reimbursed, which means growth will be driven by consumers and providers, according to Moatazedi.
"This market is very much about consumer penetration, and new entrants will need to consider value proposition around those two constituents."
The company said it plans to build a sales and marketing team to commercialize DWP-450, launching its own sales force in the U.S., starting with a 65-person team within the first year of commercial launch and growing to 150 representatives over time if it gets FDA approval, according to Securities and Exchange Commission filings. It also plans to grow brand awareness through national public relations, social media and direct-to-consumer media campaigns.
DWP-450 is licensed from Daewoong Pharmaceutical Co. Ltd. in South Korea.
Evolus employs nearly 30 people between Irvine and a research and development facility in Santa Barbara. Moatazedi said it's searching for a chief financial officer.
Just Evolus
Moatazedi succeeds Murthy Simhambhatla, who came to helm Evolus last year following his ascension at Alphaeon Corp., which was Evolus' parent.
Simhambhatla confirmed he's no longer involved with either company—"I resigned from Alphaeon when we spun out Evolus and took it public," he said.
Vikram Malik, a managing partner of Newport Beach-based Strathspey Crown Holdings LLC since 2013, is Evolus' chairman.
Newport Beach-based lifestyle healthcare-focused investment firm Strathspey founded Alphaeon in 2013 as a lifestyle medicine company that provided and invested in products and services not covered by health insurance. Evolus was one of Alphaeon's portfolio companies at the time.
The platform, which also included ShoutMD, a social media network that allows doctors to review and rate products used in their practices, and a credit platform offering financing services, was well-funded by doctors. It was at one time the hyped-up, darling unicorn of Orange County, except that the initial public offering never happened. Simhambhatla, a senior Strathspey partner, replaced Robert Grant as Alphaeon chief executive in 2016 and narrowed the company's strategy to developing the neurotoxin.
Moatazedi said Evolus is an independent publicly traded company whose largest shareholder is Alphaeon, a subsidiary of Strathspey. He's solely focused on growing Evolus' toxin platform and has no involvement in Alphaeon or Strathspey.