Midday Stock Roundup
Monday, May 14, 2018
Share this article: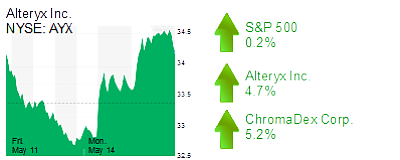 The S&P 500 increased 0.2% in midday trading to 2,734.14.
The Dow Jones Industrial Average climbed 0.3% to 24,913.73.
The Nasdaq also climbed 0.3% to 7,421.96.
The yield on a 10-year Treasury bond jumped 0.7% to 2.99%.
The price of gold was down 0.1% to $1,319.
TECHNOLOGY
Alteryx Inc. (NYSE: AYX) climbed 4.7% to $34.55 and a $2.1 billion market cap. The analytics software maker on May 9 reported first-quarter revenue climbed 50% to $42.8 million. Shares of the Irvine company are up 36% this year.
NUTRITION
ChromaDex Corp (Nasdaq: CDXC) rose 5.2% to $3.66 and a $201 million market cap. The Irvine company appointed Sir John Walker, a 1997 Nobel laureate in chemistry, to its scientific advisory board today.