Midday Stock Roundup
Tuesday, May 8, 2018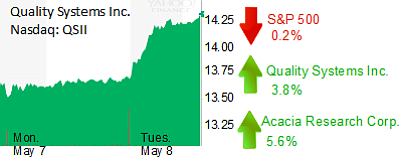 The S&P 500 declined 0.2% in midday trading to 2,666.06.
The Dow Jones Industrial Average fell 0.4% to 24,272.88.
The Nasdaq dropped 0.4% to 7,239.85.
The yield on a 10-year Treasury bond jumped 1.2% to 2.98%.
The price of gold was down 0.1% to $1,314.
HEALTHCARE
Quality Systems Inc. (Nasdaq: QSII) in Irvine climbed 3.8% to $14.25 and a $908 million market cap. The company said its flagship NextGen Enterprise software product won approval from a network system to be part of an exchange of medical records among 600,000 providers nationwide.
TECHNOLOGY
Acacia Research Corp. (Nasdaq: ACTG) of Newport Beach increased 5.6% to $3.80 and a $192 million market cap. Acacia Research, which licenses patents and invests in technology, is in the middle of a proxy battle with some of its largest shareholders. The shares have climbed 16% since April 16.