Magic Morning in Irvine
Tuesday, May 8, 2018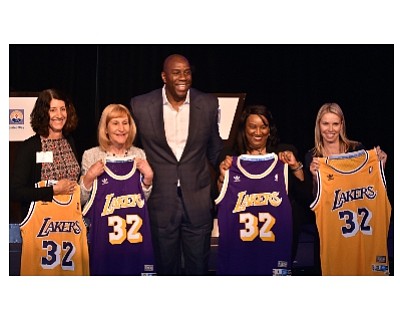 Seventeen years ago Orange County United Way President Sue Parks cofounded The Women's Philanthropy Fund within the nonprofit.
Tuesday morning, with a huge assist from basketball legend and businessman Earvin "Magic" Johnson, the Fund's annual breakfast posted a record take before a record crowd.
"It's still going," Parks said, "but we're over $600,000 and attendance topped 920."
Having Johnson, a part-time Monarch Beach resident since 2007, keynote the WPF's only big public event surely helped.
"He was magnanimous," Parks said, "and he was very gracious from a business standpoint."
Parks and her fellows established the WPF in 2001, an exclusive club with each member pledging a minimum $10,000 annual contribution to "improve the lives of local women and children." The targeted beneficiary the last three years in education has been the K-3 students of Paul Revere Elementary in Anaheim, who now read at a 4.5 grade level, and have their own Chromebook laptops.
It's a cause that resonates with Johnson, who told the crowd at Hotel Irvine that he and his wife Cookie support over 1,000 area kids on scholarships.
"Our legacy won't be tied to how much we make or how many cars we have," Johnson said. "Our legacy will be tied to how many people we helped."
Johnson is chairman and chief executive of Magic Johnson Enterprises with a wide-ranging portfolio from branded movie theatres, to pieces of sports franchises, recently adding Team Liquid in esports and the Los Angeles Football Club, a new team in Major League Soccer. Johnson also has stakes in MLB's Los Angeles Dodgers and the NBA's Los Angeles Lakers. He donated four signed #32 jerseys at the breakfast.