Yogurtland Adds in Dallas
Wednesday, May 2, 2018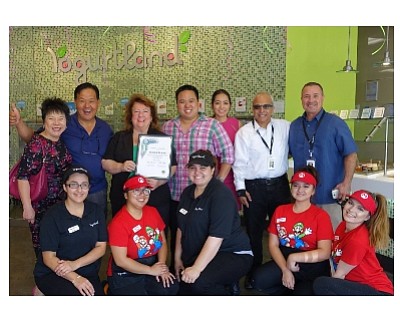 Irvine-based Yogurtland signed current franchisee Yang Group to expand the chain in Dallas-Fort Worth with up to eight locations over the next three years.
The family currently runs nine sites of the frozen yogurt chain in Southern California, Arizona and Texas.
"We longed for a family business opportunity that embodied an inclusive culture, service minded environment, [and] unique high quality products," said Chief Executive Allan Yang.
Yang's father, Charlie, ran a sports bar in Southern California beginning in the 1990s; the real estate recession pushed the family to diversify, a Yogurtland press release said.
The chain has 320 locations in the U.S., Australia, Dubai, Guam, Myanmar, Oman, Singapore, Thailand and Venezuela. It's No. 13 on the Business Journal's list of OC-based restaurant chains, with about 180 million in sysstemwide sales.
Founder and Chief Executive Phillip is on the Business Journal's OC 500 list.