Taco Bell Sales Up, Profit Down
Wednesday, May 2, 2018
Share this article: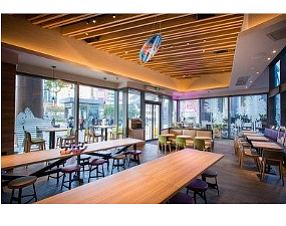 Irvine-based Taco Bell Corp.'s system-wide sales grew 4% to $2.34 billion and operating profit declined 6% to $132 million in its most recent quarter. The numbers were reported in Louisville-based Yum Brands Inc.'s quarterly report.
Yum systemwide sales at its brands, which include KFC and Pizza Hut, grew 4% to $11.7 billion; operating profit was $441 million.
Taco Bell's same-store sales grew 4% and the fast food chain added 56 restaurants; it had 6,883 locations as of March 31. It refranchised 49 units in the quarter.
It's the largest OC-based restaurant chain with $9.5 billion in systemwide sales and 2,600 local workers.