Midday Stock Roundup
Wednesday, March 28, 2018
Share this article: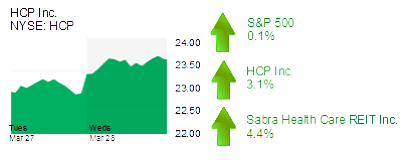 The S&P 500 was up 0.1% in midday trading to 2,615.32.
The Dow Jones Industrial Average rose 0.5% to 23,972.55.
The Nasdaq declined 0.3% to 6,988.57.
The yield on a 10-year Treasury bond clicked down 0.1% to 2.78%.
The price of gold was down 1.3% to $1,325.
HEALTHCARE
Shares in two Irvine-based healthcare REITS are trading higher. HCP Inc. (NYSE: HCP) was up 3.1% to $23.50 and an $11.2 billion market cap; Sabra Health Care REIT Inc. (Nasdaq: SBRA) was up 4.4% to $17.64 and a $3.1 billion market cap. Both were traded at moderate volume through midday.
ChromaDex Corp. (Nasdaq: CDXC) in Irvine fell 9% to $4 and a $220 million market cap. Shares in the maker of anti-aging ingredients and products have fallen 20% over the last five sessions as a Harvard Medical School study on possible competitors to the company's flagship product, Niagen, was released.
HOSPITALITY
Sunstone Hotel Investors (NYSE: SHO) in Aliso Viejo was up 4.3% to $15.17 and a $3.4 billion market cap. Shares in the hotel REIT are up about 8% this week.