Midday Stock Roundup
Tuesday, March 27, 2018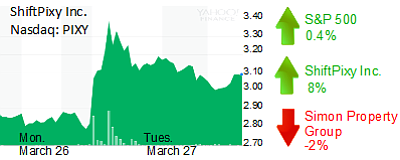 The S&P 500 was up 0.4% midday trading to 2,670.97.
The Dow Jones Industrial Average spurted 0.9% to 24,412.57.
The Nasdaq was flat, 0.1% to 7,221.89.4
The yield on a 10-year Treasury bond dropped 0.8% to 2.88%.
The price of gold fell 0.9% to $1,342.50.
RETAIL
Simon Property Group (NYSE: SPG) the Midwest-based Real Estate Investment Trust is down $3.22 to $149.99 and a $48 billion market cap. The valuation represents a 52-week low for the national leader among shopping center REITs, operating today in a challenging segment.
Simon's (4%) returns over the past 12 months compares to (12%) for rating service Morningstar's average shopping center REIT. Simon's OC properties include Brea Mall and the Outlets at Orange.
SERVICES
ShiftPixy Inc. (Nasdaq: PIXY) was up 8% to $3.02 and an $87 million market cap. Company execs in Irvine say their app-based temp worker provider will use blockchain technology to manage employees and develop a platform to minimize clients' insurance costs. The firm's talked in the past of positioning itself as a "next-gen fintech" company.