Forging Unique Successes
HIS HYBRID FIRM'S TEAMS BREED, GROW IDEAS TOGETHER
Monday, March 26, 2018
Share this article: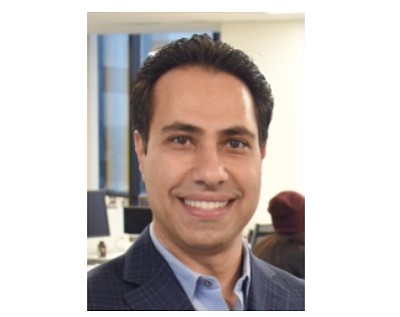 Anderee Berengian has developed a unique business model at Cie Digital Labs for employees and the companies they help fund and grow.
The Irvine-based company is part consultancy, part IT provider and part accelerator.
Its work for La Habra-based startup ASAP Tire reflects the synergistic mix.
Cie Digital leveraged its back-office operation, human resources, finance and engineering departments to help the mobile tire-installation company craft a business strategy, improve capital efficiencies, and design and develop custom software for its app, which delivers the on-demand service to consumers who simply share their location and car model.
It also helped the company raise $1.8 million.
Investors include Irvine-based venture capital firm RezVen Partners LLC, where Berengian serves as a managing partner, and Wavemaker Partners. Former eBay and Pepsi executive Jim Davis, also a RezVen managing partner, advises ASAP Tire on marketing strategy.
"We're always focused on new cool ideas," said Berengian, an honoree at the Business Journal's 17th annual Excellence in Entrepreneurship Awards (see other profiles, this page and pages 4, 6 and 7).
Cie Digital will soon announce another startup in its incubator, a software company, as it accesses other potential partners.
"We've got about half a dozen we're toying and tooling around with, seeing where it goes," Berengian said.
The company has notched one big exit and spun out another company that's attracted venture capital. Cie Games, which developed top racing franchise "Racing Rivals" on iOS and Android, was sold in 2014 for $100 million in cash and stock to San Francisco-based Glu Mobile Inc.
Nativo, which it launched in 2012, has raised $32 million from venture capitalists, including RezVen, Wavemaker, Greycroft and Advance Vixeid Partners.
More than 350 online publishers use the El Segundo-based company's native advertising offering, which is essentially editorial content sponsored by a brand.
The Nativo concept stemmed from work handled by Cie Digital's consultancy, software and website development arm.
Its innovation lab and consultancy also caters to the Fortune 2000 crowd, clients that include Petco, Leslie's Pool Supplies and Pilot Travel Centers LLC, which operates more than 750 Flying J truck stops in 44 states.
Through Cie Digital and RezVen, Berengian has helped raise nearly $200 million for startups in his entrepreneurial career, which spans more than two decades.
RezVen portfolio companies have attracted a few big sales over the years.
StyleHaul, a YouTube fashion network hit, was acquired in 2014 for $300 million by RTL Group SA. Ankeena Networks, which delivered online media content at scale, was acquired in 2010 for less than $100 million by Juniper Networks.
CloudTrigger, an Atlanta-based cloud services integrator, was sold on undisclosed terms in 2012 to Cloud Sherpas.
RezVen has invested in more than a dozen startups with its $50 million institutional fund, which it launched in 2015.
Together
Cie Digital was established in 1998 in Cerritos by Justin Choi, who now serves as head of product strategy.
Berengian acquired a majority stake in the company in 2015, taking the role of chief executive.
The entrepreneur serves as a mentor to Boulder-based accelerator Techstars and the Founder's Institute in Palo Alto.
Cie Digital employs about 100, the vast majority in Irvine. The company has about 60 job openings, a mix of corporate roles, engineering, sales and creative jobs.
The startup culture reigns supreme inside its 14,000-square-foot headquarters, where project collaboration sometimes churns out business ideas and entities.
Instead of bestowing stock options, Cie Digital treats employees as portfolio managers, each with his or her own equity stake in a project or startup.
"That really resonates, and it's super unique," Berengian said. "If we're successful, we succeed together. If we fail, we fail together."
The strategy, he said, builds alignment in the company and longevity with clients, which grow from startups to established operations.
"I think we're going to enable a lot of local success and local hiring."