Del Taco Operator to Triple Michigan Sites
Wednesday, March 21, 2018
Share this article: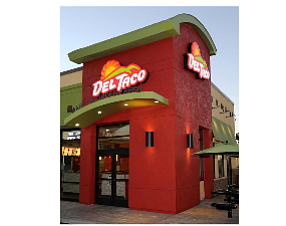 Del Taco Restaurants Inc. in Lake Forest said franchisee Team Schostak Family Restaurants will open 12 locations in the Detroit market; it currently runs five in Michigan, with a sixth in development.
Schostak principals also run 65 Applebee's in the state. That casual dining chain is based in Kansas City, Mo.
The city of Detroit has been returning from financial ruin with, for instance, accelerated bond repayments; a $55 million transaction approved by the city council Feb. 6, and the Ilitch Family's Olympia Development of Michigan about to retire $200 million in bonds on Little Caesars Arena, 28 years ahead of schedule. The moves free up borrowing power for the Detroit Downtown Development Authority to boost further growth.
The Schostaks are an "accomplished franchise group … and it speaks volumes that they continue to expand their company's holdings," said Del Taco franchise development director Laura Tanaka in a press release.
"We … see tremendous … space for the concept across Michigan," said Team Schostak Family Restaurants Executive Chairman Mark Schostak,
At year-end 2017 Del Taco had 564 restaurants in 14 states with 252 or 45% of those franchised. It's the fifth-largest OC-based restaurant chain with system-wide sales of $738 million and annual revenue of $452 million; revenue is lower because only part of franchisees' revenue goes to the parent company.
Del Taco (Nasdaq: TACO) traded recently at a $419 million market cap.