Midday Stock Roundup
Monday, March 19, 2018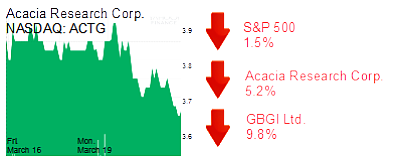 Indices plunged in midday trading amid a tech sector sell-off and expectations the U.S. Federal Reserve will raise interest rates four times this year instead of three.
The S&P 500 fell 1.5% to 2,710.21, the Dow Jones Industrial Average 1.3% to 24,614.60, and the Nasdaq 2.4% to 7,322.50.
The yield on a 10-year Treasury bond fell 0.3% to 2.84%.
The price of gold was up 0.4% to $1,318.
SERVICES
Acacia Research Corp. (Nasdaq: ACTG) fell 5.2% to $3.65 and a $184 million market cap. It licenses patents and invests in technology.
GBGI Ltd. (LSI: GBGI.L) declined 9.8% to a $159 million market cap. The international insurance provider, whose de facto headquarters is in Foothill Ranch, is reorganizing its Angola business following a currency devaluation in that country. The move should reduce gross written premiums by $20 million, Alliance News of London said.