Forward to Fusion
AS IT PURSUES ENERGY'S HOLY GRAIL, TAE SEEKS TO MARKET DECADES OF R&D
Monday, March 19, 2018
Share this article: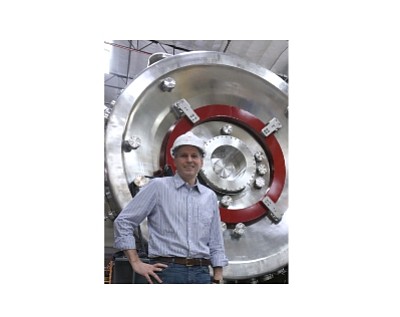 TAE Technologies Inc., one of Orange County's most funded and promising technology companies, has launched its first commercial application through a newly formed subsidiary.
TAE Life Sciences, which emerged last week backed with a $40 million Series A venture round, is developing a ground-breaking oncology treatment system using energy beams.
The investment round, led by San Francisco-based ARTIS Ventures, included a board seat for its president, Stuart Peterson.
The Boron Neutron Capture Therapy treatment targets specific cancer cells and often inoperable tumors, such as glioblastomas, and head and neck cancers, while leaving healthy surrounding cells uncompromised.
TAE Life Sciences' initial customer, Neuboron Medtech Ltd., plans to install the multimillion-dollar machine at a cancer treatment center in China that's scheduled to open late next year. TAE Life Sciences is working with the Nanjing, China-based company and other clinical researchers on regulatory clearances and bringing the therapy to market.
"We finished the design and are in fabrication," President and Chief Technology Officer Michl Binderbauer told the Business Journal last week. "Almost two decades of research and development repurposed for the medical space."
The proprietary energy beams, or particle accelerators, and some related patents were developed by a growing team of engineers and Ph.D.s at TAE Technologies' nondescript headquarters in Lake Forest, where the company has crossed several milestones in its quest to topple nature's immense roadblocks in nuclear fusion.
The Dream
Fusion combines two or more lighter atoms into a larger one, long considered the fantasy hope in clean nuclear energy production. By contrast, fission is the splitting of a large atom into two or more smaller ones, a process that ultimately led to the creation of the atom bomb in World War II, and that's used to produce electricity in today's commercial reactors.
TAE's fifth-generation prototype "plasma fusion" machine, C-2W, runs on 750 megawatts of energy—nearly enough to power all of OC.
The previous version, C-2U, used about 25 megawatts of power, roughly the same pull as 25,000 homes.
The company has spent more than $100 million to build the latest system from the ground up, a yearlong undertaking that included massive electrical upgrades.
When the 100-foot machine fires—spurts are measured in thousands of a second—the system disconnects from the grid. The power is passed through locomotive cables thicker than an adult arm, with 30 to 40 tons of copper, cabling and switch gear.
Four giant cylindrical systems, or diverters, each siphon out unwanted materials at 2 million liters per second.
If the system was geared for another use, one diverter could suck the air out of the 65,000-square-foot building in a second.
The machine is named Norman after the company's co-founder, Norman Rostoker, a noted University of California-Irvine professor who created the foundational theory behind plasma physics and put UCI at the forefront of fusion research.
Binderbauer, who studied under Rostoker in the early 1990s as a UCI undergrad, considers him a mentor and visionary "behind a lot of this stuff."
Rostoker died on Christmas Day 2014 in Irvine. He was 89.
His vision of creating clean fusion as a source of nearly unlimited, nonpolluting energy took a giant leap forward in 2015 when C-2U achieved one of two scientific milestones in the nuclear fusion equation: keeping plasma in an ideal state long enough to reach the second milestone.
"Long enough and hot enough are the two gauntlets," Binderbauer said. "We did long enough on our machines. We can, in fact, hold plasma literally at will."
The development surprised the scientific community and other skeptics, who had discounted such a breakthrough even five years ago, considering the instability of plasma.
Traditional nuclear reactor designs have primarily relied upon the fusion of deuterium and tritium, which tend to yield the most energy but are highly radioactive.
TAE Technologies' preferred mix of hydrogen and boron needs the highest temperatures to produce helium—more than 60 times hotter than the sun's core—but is virtually free of radioactivity and is breathable.
"There is no greenhouse gas, or other particle emission, and it doesn't have meltdown risk," Binderbauer told the Business Journal on a recent tour. "What makes it so hard to create makes it infinitely safe."
And even with ideal conditions, extracting energy from those particle collisions is extremely rare—five to 10 in a billion attempts.
"So it's a numbers game, it's a probability game," Binderbauer said.
Partnership
TAE Technologies' four-year partnership with Google Inc. on artificial intelligence has been instrumental in optimizing equipment and machinery. Without optimal operating conditions, impacts mar data and predictive capability.
When a machine was developed to run tests, it would take TAE engineers a month or longer to configure it for optimum results.
Aided by Google's expertise in modern statistics, machine learning and AI, that time frame was initially cut down to a week or so, and then even shorter.
"We compressed these time scales down to one afternoon," said Binderbauer, who convinced Google founder Sergey Brin the effort was worthwhile when Brin visited TAE's headquarters in early 2013.
"It took us a while to get Google interested in it," he said.
Brin was accustomed to nine-month product cycles, not those measured in five-year increments.
Removing a month from an operating time frame has decreased expenses in an incredibly capital-intensive undertaking for TAE, which burns through $4 million a month.
It has a workforce of about 200, and half are Ph.D.s.
"We have some of the brightest minds in the field, absolutely on par with MIT or Princeton," Binderbauer said.
The company's board is as impressive as its scientists.
Directors include former Department of Energy Secretary Ernest Moniz; former Morgan Stanley Chairman and Chief Executive John Mack; Richard Meserve, who chaired the U.S. Nuclear Regulatory Commission under former Presidents Bill Clinton and George W. Bush; and TAE Technologies Chief Executive Steven Specker, who spent 30 years at GE, leading its nuclear and digital energy businesses.
Google has taken a more vested interest over the years, deploying a team of about 10 from its X research unit to help in AI and to run tests from Lake Forest and its headquarters in Mountain View.
TAE Technologies has provided stock ownership to Google for the ongoing work.
"They're a good stockholder now," said Binderbauer. "I could see them taking a real capital stake."
Backers
TAE Technologies has raised more than $540 million. Its backers are an eclectic mix, from Paul Allen, Microsoft Corp. co-founder and Portland Trailblazers and Seattle Seahawks owner; actor Harry Hamlin of "L.A. Law;" and former Emerald Bay resident Buzz Aldrin, the second man on the moon; to more traditional investors, such as Venrock and New Enterprise Associates, the largest venture capital firm in the world.
It raised about $1 million in a 2002 A round and then attracted Allen, who put in another $1 million.
"He visited here a few years ago and occasionally interacts with us," Binderbauer said.
Now each venture round is at least $100 million. The company recently closed a Series F round, with each preceding round typically tied to a milestone as it nears full-scale demonstrations.
Glenn Seaborg, a 1951 Nobel Prize winner in chemistry credited with discovering plutonium, among other elements, was instrumental in the company's early days when it was first known as Colliding Beam Fusion Reactor Inc., helping the UCI spin-out license technology from the university.
Its earliest experiments were carried out in UCI labs. In 2000 the company, renamed Tri Alpha Energy, left UCI's campus and moved into a small lab near its current operation, which includes about 150,000 square feet in three nearby buildings.
Two years later Binderbauer negotiated a worldwide license with UCI on fusion-related patents and technology.
The company's paid UCI about $20 million in licensing fees, enough to make TAE one of the largest private supporters of the university's School of Physical Sciences.
TAE Technologies still funds research at UCI and endowed the Norman Rostoker Chair in Applied Physics, which is held by his former student, Toshiki Tajima, chief science officer at TAE Technologies.
Binderbauer chairs UCI's School of Physical Sciences Dean's Leadership Council and does pro bono work on tech transfer.
The ultimate goal of TAE Technologies is to develop a commercially competitive fusion power plant capable of generating 300 to 350 megawatts—using the traditional measure of one megawatt to power 1,000 homes—enough electricity to serve about a quarter of the homes in OC.
Its new machine, Norman, was developed to reach the final frontier in fusion, reaching temperatures hot enough to design the final prototype capable of burning the plasma, or fuel—a challenge Binderbauer expects to overcome this year.
If all goes well, TAE Technologies will look to form a public-private partnership on project financing and construction design, another five- to seven-year effort.
"Within less than a decade we would like to see electrons hit the grid," Binderbauer said. "I think this is absolutely feasible."
Meanwhile the company will continue to spin out applications and subsidiaries, with interest bubbling in the aerospace, transportation and electric vehicle sectors.
"We have about 900 patents just around this machine," he said. "We're going to do more of this."