El Pollo Loco Revenue Up
Thursday, March 8, 2018
Share this article: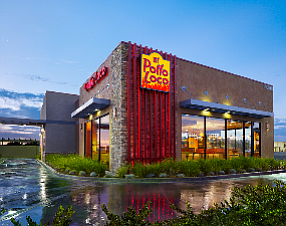 El Pollo Loco Holdings Inc. (Nasdaq: LOCO) in Costa Mesa earned 11 cents a share in its most recent quarter on revenue of $95.2 million, up 3%; analysts expected earnings of 10 cents a share.
The fast food chicken chain lost $38,000, compared with $400,000 in net income, year-over-year.
Shares rose more than 8% in Friday trading to a $404 million market cap. The stock had declined 22% in the last year, prior to the company's quarterly report.
Same-store sales were up 1.4% companywide.
Loco last week named former Starbucks Corp. executive Bernard Acoca to replace Steve Sather as president chief executive, who is retiring, effective Monday, March 12; this week it said it will expand a food delivery test in two markets to nine markets and 280 locations.
The chain has 470 restaurants, about 55% franchised, in five states—California, Arizona, Nevada, Texas and Utah—and systemwide sales of $795 million.
Systemwide sales refers to total sales of its products, whether at franchised or company-owned sites; Loco's annual revenue is lower because it collects fees from the former, but not all of the sales at those locations.
Loco is the fourth-largest OC-based restaurant chain.