El Pollo Loco Expands Delivery
Tuesday, March 6, 2018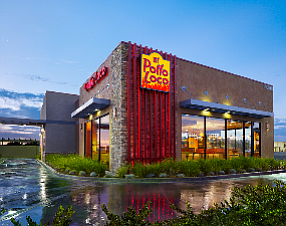 El Pollo Loco Holdings Inc. (Nasdaq: LOCO) in Costa Mesa expanded delivery service, the second OC-based restaurant operator to do so in the last month.
The fast food chicken chain will work with San Francisco-based DoorDash to deliver food from 280 of its 470 locations. It tested delivery in Orange County and Las Vegas since September; the new deal adds seven areas, including Los Angeles.
Irvine-based Taco Bell Corp. in February became part of an expanded delivery effort by its parent Yum Brands Inc. in Louisville, which invested $200 million in Chicago-based food delivery service GrubHub Inc. Yum also has the Pizza Hut and KFC chains.
GrubHub is publicly traded at a recent $8.6 billion market cap. DoorDash last week raised $535 million from SoftBank, Sequoia Capital, and the Singaporean sovereign wealth fund giving the food delivery start-up a $1.4 billion valuation; it had raised $185 million since 2013 and its most recent valuation two years ago was $720 million. GrubHub's market cap has tripled in the last year.
GrubHub delivers food in 1,600 cities. DoorDash hits about 600 but plans to use the new capital to grow, also to 1,600 cities.
The moves reflect consumers' growing acceptance of delivery services and large chains linking with the bigger delivery services. Uber offers food delivery under its UberEats unit and Amazon.com has said it wants to offer similar services.
El Pollo Loco is the fourth-largest OC-based restaurant chain by system wide sales with $795 million. It traded recently at a $367 million market cap and is expected to report fourth quarter and 2017 results after markets close Thursday.