Midday Stock Roundup
Friday, March 2, 2018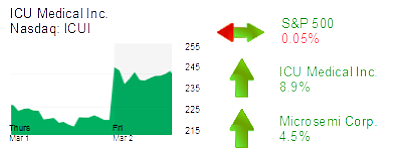 Markets recovered in midday trading after Commerce Secretary Wilbur Ross told CNBC that new tariffs on steel and aluminum are "no big deal."
The S&P 500 was flat at 2,677.22 after being down as much as 1.1%. The Dow Jones Industrial Average fell 0.6% to 24,458.33 a rebound from down 1.6%. The Nasdaq was up 0.3% to 7,205.08 after being down as much as 1.3%.
The yield on a 10-year Treasury bond was up 2.1% to 2.86%.
The price of gold increased 1.2% to $1,321.
HEALTHCARE
ICU Medical Inc. (Nasdaq: ICUI) rose 8.9% to $242.80 and a $4.8 billion market cap. The San Clemente company yesterday boosted its 2018 earnings forecast to $6.60 to $7.30 a share from a prior range of $6.05 to $6.65.
TECHNOLOGY
Aliso Viejo's Microsemi Corp. (Nasdaq: MSCC) climbed 4.5% to $67.17 and a $7.9 billion market cap. Semiconductor maker Microsemi yesterday announced it is selling itself for $68.78 a share, or an enterprise value of $10.15 billion, to Microchip Technology Inc. (Nasdaq: MCHP) of Chandler, Ariz.