February Auto Sales Mixed
Thursday, March 1, 2018
Share this article: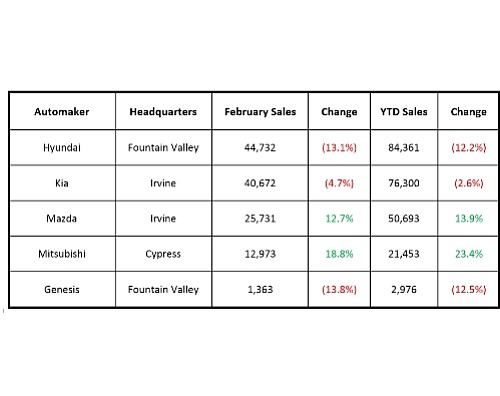 February and year-to-date sales figures for Orange County automakers were mixed.
Hyundai Motor America and Hyundai's Genesis brand reported a drop in sales in both categories as did Kia Motors America Inc.
Mazda North America Operations and Mitsubishi Motors N.A. Inc. were the two bright spots with monthly sales climbs. Year-to-date sales also grew.
This month two automakers also switched chief executives. Mitsubishi named longtime Chrysler and Nissan executive Fred Diaz as chief executive and president, replacing Ryujiro Kobashi. Kia Motors announced SeungKyu "Sean" Yoon will replace JangWon "Justin" Sohn as chief executive and president.