Midday Stock Roundup
Thursday, June 14, 2018
Share this article: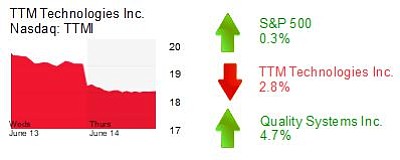 The S&P 500 was up 0.3% in midday trading to 2,783.92.
The Dow Jones Industrial Average was flat at 25,196.74.
The Nasdaq was up 0.9% to 7,763.00.
The yield on a 10-year Treasury bond dropped 1.3% to 2.94%.
The price of gold was 0.5% higher to $1,307.
TECHNOLOGY
TTM Technologies Inc. (Nasdaq: TTMI) in Costa Mesa was down 2.8% to $18.77 and a $1.9 billion market cap. It makes printed circuit boards.
Quality Systems Inc. (Nasdaq: QSII) in Irvine was up 4.7% to $18.90 and a $1.2 billion market cap. It makes software that manages medical and dental practices.
HEALTHCARE
PharmaCyte Biotech Inc. (OTC: PMCB) in Laguna Hills was up 11.3% to 8 cents and an $83 million market cap. It develops therapies to treat cancer and diabetes and said it "completed the comprehensive characterization of a proprietary cell clone"—a precursor to clinical trials of a product that includes the clone. Shares are up 60% this month on two such pre-clinical reports by the company.