Airport Turns In Solid FY 2017
Thursday, June 14, 2018
Share this article: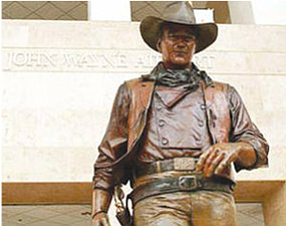 John Wayne Airport reported a solid—even stolid—fiscal 2017 with stable revenue, positive operating income, and lower interest expense for the year ended June 30.
Operating revenue rose about 1% to $130.2 million, and operating expenses were $119 million—up about 6%. Two-thirds of the increase in expenses—about $3.6 million—came largely from terminal improvements not covered by a four-year seismic retrofitting project that's underway.
"These are bringing the aesthetic values" of older terminals up to snuff—new carpet and paint, for instance, said Mariane Teschner, deputy director for finance and administration, in a phone interview.
A notable element of the flat revenue was a decrease in parking revenue because more airport passengers are using ride-share companies—Lyft, Uber and Wingz—at the airport.
"No doubt, the use of [transportation network companies] have changed the way people get to the airport," Airport Director Barry Rondinella said. "Rental cars are also off."
Rondinella said John Wayne was an early adopter in letting TNCs operate. The airport charges companies for pickups but not drop-offs, putting the money in "revenue from services," which rose about $500,000.
An effort this year to increase the per-ride rate JWA charges from $2.25 was shelved but will likely come before the Board of Supervisors in the future, Rondinella said.
TNC revenue increases at the airport are "from more rides," he said. "We've seen exponential growth" in that.
A third notable element of the fiscal year was a 22% decline in interest expenses—about $2 million—based on the "early call of $27 million in bonds," Teschner said.
The Business Journal reported in May 2017 on supervisors' approving early repayment of the bonds, which are part of a roughly $233 million 2009 offering to finance new facilities and improvements.
The early repayment "saved $13.6 million in future interest," Teschner said.