Carrick Has Wind at Its Investing Back
FINANCE: NB'S MADDEN FINDS OPPORTUNITIES IN BACKYARD
Wednesday, June 13, 2018
Share this article: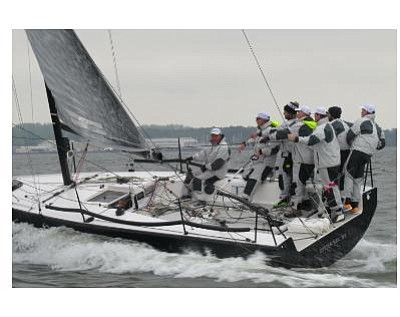 Jim Madden doesn't want to be a chief executive anymore. Been there. Done that.
In fact, he did it so successfully that he reaped a $50 million-plus payday when his firm, Exult Inc., was bought in 2004. Afterward, Madden realized he didn't want the numerous problems associated with leading a company.
"I'd rather be the guy on the board motivating the CEO," he said in his office overlooking Fashion Island in Newport Beach.
"I'd rather be the coach or investor than the guy on the field."
Nowadays, the 56 year old is co-founder and managing director of private equity firm Carrick Capital Partners LLC, which has raised $455 million and invested in 14 companies, including two in Orange County. He sits on the board of directors of six emerging tech companies.
"It is fun. It's challenging. I love what I do."
Exulted Success
Madden was born in Oyster Bay, N.Y., the home of Teddy Roosevelt and Billy Joel, he noted. He graduated magna cum laude with degrees in geology and finance from Southern Methodist University. His work experience includes stints at Accenture, MCI and Booz Allen Hamilton Inc.
He ran an information technology outsourcing business and recognized it was becoming a commodity. He sought other areas that were ripe for outsourcing, such as human resources, which was generally poorly run and had few expense controls.
"Our twist was to use the internet to run our software," a new concept in those days, Madden said.
He formed Exult in 1998 with the backing of a New York-based private equity firm that would become famous in Silicon Valley, General Atlantic Partners LLC.

The first contract was with BP plc, then the world's seventh-biggest company, with hundreds of thousands of employees. Exult signed a five-year, $600 million contract "that put us on the map. We grew to $100 million in revenue within 18 months."
Bank of America Corp. was its second client, giving Exult a $1.1 billion, 10-year contract. After an initial public offering in 2000, Exult's revenue grew to about $480 million in 2003. A year later, it was sold to Lake Forest, Ill.-based Hewitt Associates for about $900 million. Madden owned 5.7% of shares, according to a proxy.
"I'm not complaining," he said. "It worked out really well."
It also was a "great deal" for General Atlantic.
"They made 7.7 times their money. They still send me Christmas cards."
PE Lover
Madden was a special adviser to General Atlantic for two years before joining friend J. Michael Cline at private equity firm Accretive LLC. Cline was an Exult co-founder and has also founded famous companies, including online movie ticket seller Fandango and small-business insurance provider Insureon. Madden made four investments in four years.
"I learned I loved doing this. I love private equity technology software."
After Cline decided to scale back, Madden formed Carrick with friend Marc McMorris, who also came from General Atlantic. The partners planned to form a smaller, more nimble version of General Atlantic, which Madden said had become so big that it was hard for it to invest less than $300 million.
Since both men love sailing, they settled on the name Carrick, a type of knot and the point where a boat is moored, Madden said.
The company's roster includes a number of Exult veterans and longtime Silicon Valley players. Special advisers include Kenneth Coleman, a former executive in charge of sales at the legendary Silicon Graphics Inc.; Bill Frist, former U.S. Senate majority leader and a heart transplant surgeon; Raul Fernandez, vice chairman of the NBA Washington Wizards and NHL Washington Capitals' ownership group; and Carol Lindstrom, a former vice chairman at Deloitte LLP.
Carrick raised $180 million in its first fund, which is fully invested, and $275 million in its second fund. About 70% of investors are institutions, such as California municipalities and endowments at Texas and North Carolina universities.
The firm seeks to invest in companies selling software or services with revenue of $20 million to $100 million.
"Once they get to $20 million, we want to help them grow it even faster," Madden said.
"We won't take product or market risk. We will take execution risk. We'll take this management team and scale the heck out of this business."
Shark Tank Fan
Such private equity investments are less risky than pure venture capital, whose investments are made based on a person or an idea, and the product or software may not even exist, Madden said. When asked about the popular TV investment show "Shark Tank," he said, "I love that show, but that's not us. That's venture capital. We're not that flippant and cavalier."
Carrick takes four to six months to make an investment, which involves "a ton of work." He also invests far more than "Shark Tank" judges.
What does someone capable of writing a $50 million check look for in an investment?
Customers.
"That's the single most important thing," Madden said.
Carrick interviews five to a dozen customers.

"If you have happy customers," he said, "it makes the job a lot easier."
The Investments
Carrick has invested in 14 companies, including four in healthcare, seeking a return of three to four times the investment. Madden said he can't say what the returns are yet because the firms haven't been sold or gone public.

One firm he's hopeful will be a home run is New York-based Axiom, which Madden called "a category creator in technology services for legal contracts." For example, it recently signed a $70 million contract with Credit Suisse to provide all of the derivatives contracts for global trading.
While Legalzoom.com targets consumers, Axiom focuses on the largest businesses, Madden said. Its more than 2,000 lawyers, process engineers and technologists serve over half the Fortune 100. He said the company might go public by early next year.
Mavenlink Inc., an Irvine-based provider of cloud-based software for services organizations, is Carrick's fastest-growing company, its revenue climbing 50% to 70% a year and recently signing Target Corp. Madden praised co-founder and Chief Executive Ray Grainger and his team for finding "a great niche."
After reading a Wall Street Journal article on how few medical payments are made online, Carrick scoured the country for a company that could facilitate payments among consumers, doctors, hospitals and insurance companies.

Much to Madden's surprise, he discovered InstaMed Inc. has a corporate office only three miles from Carrick's Newport Beach office, and it eventually invested $50 million in the company. Eight of the biggest 10 hospitals in California are now on the InstaMed Network.
"It's the last frontier of electronics payments in the U.S.," Madden said. "These guys built the solution and did it right."
OC Tech Scene
Madden prefers to live in Orange County, though he stays well-versed on Silicon Valley, especially since half of the company's employees are based at its San Francisco office.
He said he sees a change coming because Silicon Valley is so expensive—"a shack starts at $1 million"—and Orange County is developing talented software engineers.
For example, out of 280 qualified companies Carrick could invest in, 80 are in Southern California, including 25 in Orange County.
"It surprised the heck out of me," Madden said. "More of our pipeline is in Southern California, which I wouldn't have thought five years ago. This is becoming a very attractive market compared to the Bay Area."