Rimrock-Backed Company Files Chap. 11
Tuesday, June 12, 2018
Share this article: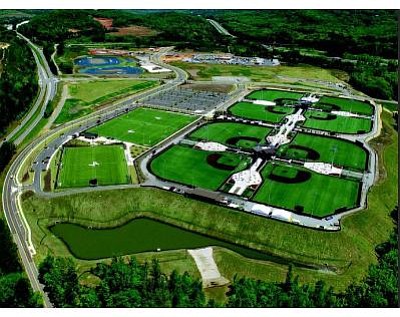 Rimrock Capital Management LLC, an Irvine-based investment adviser with $4 billion assets under management, is reorganizing LakePoint Land LLC., a 1,300-acre, Georgia complex famous for its sports facilities.
LakePoint Land, a 40-minute drive north of Atlanta, has filed a prearranged Chapter 11 bankruptcy in the U.S. Bankruptcy Court for the Northern District of Georgia.
LakePoint, which launched in 2012, is marketed as a family-vacation sports destination that hosts numerous athletic tournaments and scouting events, attracting more than a million visitors annually.
"We see the reorganization as an opportunity," said Dan Berman, senior managing director of GlassRatner Advisory & Capital Group LLC, which is leading the restructuring on behalf of LP Investments I, an affiliate of Rimrock Capital.
Rimrock, which invests in a variety of debt, lent about $50 million to LakePoint Land over the past five years, Berman said.
While the facility was well-developed and managed, LakePoint Land ran into trouble when it didn't grow fast enough and "required a significant amount of capital," Berman said. In 2016, LakePoint Land deeded land to Rimrock as part of a loan workout.
Rimrock already has terms with equity owners, so the bankruptcy reorganization should be relatively quick, within 150 days, Berman said. After the reorganization, Rimrock will be majority owner of LakePoint, and existing shareholders will also get stakes.
Rimrock will recapitalize the company by contributing the land it now owns back to LakePoint Land and converting its debt into equity, he said.
"When we exit, it will be all equity and no debt."
The complex has $135 million in overall investments from variety of sources, Berman said.
LakePoint Land has acted as a master developer and sold parcels to third parties for development. Certain facilities and venues, including the indoor sports pavilion, the entertainment venues, and surrounding hotels and restaurants, are excluded from the Chapter 11 filing, as they're not owned by LakePoint Land.
The sports complex is continuing to operate, and this may be its best year ever, with a projected 1.2 million visitors, Berman said. Rimrock will continue to develop the complex, which may eventually include housing.
Rimrock has private-pooled investment vehicles to provide qualified investors with alternative investment strategies. It has six primary employee owners, including founder David Edington and Managing Director Paul Westhead.