Midday Stock Roundup
Tuesday, June 12, 2018
Share this article: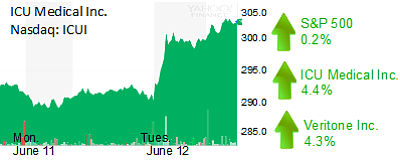 The S&P 500 increased 0.2% in midday trading to 2,785.87.
The Dow Jones Industrial Average declined 0.1% to 25,305.02.
The Nasdaq climbed 0.6% to 7,703.17.
The yield on a 10-year Treasury bond rose 0.4% to 2.97%.
The price of gold was down 0.3% to $1,299.
HEALTHCARE
ICU Medical Inc. (Nasdaq: ICUI) increased 4.4% to $302.89 and a $6.2 billion market cap. It was reported in late May that San Clemente-based ICU is in early-stage talks about a combination with the medical division of the British engineering firm Smiths Group PLC. ICU's shares have almost doubled in the past year.
TECHNOLOGY
Veritone Inc. (Nasdaq: VERI) in Costa Mesa rose 4.3% to $22.55 and a $369 million market cap. Shares of the company, which has an online ad-placement business and is trying to expand into artificial intelligence, have climbed 71% since April 5 when it announced the updating of its AI operating system.