JWA Gets Two For Texas
Wednesday, June 6, 2018
Share this article: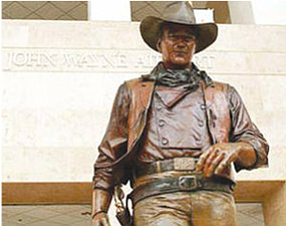 John Wayne Airport has two new destinations.
The Duke starred in "The Alamo" and Frontier Airlines will begin a route to home-of-the-Alamo San Antonio, as well as flights to Austin, Aug. 14.
The new nonstop flights are the second and third cities Frontier flies to from here; it currently goes to Denver, where it's based. Both will use Airbus 320s, with capacity of about 180 passengers.
San Antonio is four days a week: Monday, Wednesday, Friday and Saturday. Departures are at 10:47 a.m.; arrivals from San Antonio are at 5:26 p.m.
Austin is three days a week: Tuesdays, Thursdays and Sundays. Departures from John Wayne at 11:48 a.m.; arrivals at JWA 6:23 p.m.