Midday Stock Roundup
Friday, June 1, 2018
Share this article: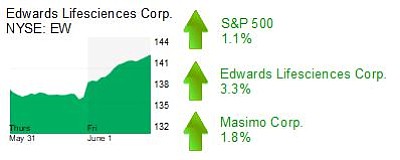 Indexes were higher in midday trading on a strong jobs report that showed nonfarm payrolls and wages rising.
The S&P 500 was up 1.1% to 2,735.49.
The Dow Jones Industrial Average 1% to 24,653.95.
The Nasdaq 1.5% to 7,553.70.
The yield on a 10-year Treasury bond leapt 2.7% to 2.9%.
The price of gold was 0.4% lower to $1,300.
HEALTHCARE
Edwards Lifesciences Corp. (NYSE: EW) in Irvine was up 3.3% to $142 and a $29.9 billion market cap. It makes heart valves. Shares about $1 below the all-time high.
Masimo Corp. (Nasdaq: MASI) in Irvine was up 1.8% to $100.85 and a $5.2 billion market cap. It makes pulse oximeters.
Glaukos Corp. (NYSE: GKOS) in San Clemente was up 1.7% to $38.41 and a $1.3 billion market cap. BMO Capital maintained an "outperform" rating on the eye stent maker's shares with a $42 price target.