Midday Stock Roundup
Monday, July 30, 2018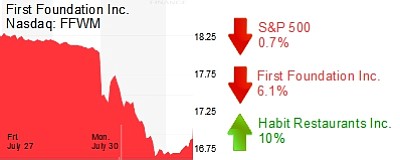 The S&P 500 fell 0.7% in midday trading to 2,800.22.
The Dow Jones Industrial Average was off 0.4% to 25,348.48.
The NASDAQ dropped 1.4% to 7,632.65.
The yield on a 10-year Treasury bond was flat at 2.96%.
The price of gold was flat at $1,232.
FINANCE
Irvine-based First Foundation Inc. (Nasdaq: FFWM) dropped 6.1% to $16.94 and a $750 million market cap. Today the company, which provides banking and wealth management services, reported second-quarter profit that missed the consensus estimate of analysts. Chief Executive Scott Kavanaugh said the company is facing "a challenging interest rate environment" and is restructuring its balance sheet to position itself for next year.
RESTAURANTS
Habit Restaurants Inc. (Nasdaq: HABT) in Irvine jumped 10% to $12.45 and a $324 million market cap. Wedbush analyst Nick Setyan upgraded shares today from neutral to outperform, writing that they're "poised for liftoff." The company, which runs fast-casual burger restaurants, is scheduled to report its second-quarter results on Wednesday.