Midday Stock Roundup
Friday, July 27, 2018
Share this article: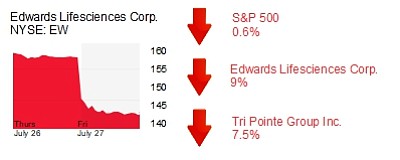 The S&P 500 was down 0.6% in midday trading to 2,819.52.
The Dow Jones Industrial Average was down 0.3% to 25,450.56.
The Nasdaq dropped 1.3% to 7,746.79.
The yield on a 10-year Treasury bond fell 0.4% to 2.96%.
The price of gold fell 0.2% to $1,224.
HEALTHCARE
Edwards Lifesciences Corp. (NYSE: EW) in Irvine was down 9% to $140.76 and a $30 billion market cap. The heart valve maker reported higher sales and net income but profit margin dipped, expenses increased and some products lost market share overseas.
REAL ESTATE
Tri Pointe Group Inc. (NYSE: TPH) in Irvine was down 7.5% to $14.36 and a $2.2 billion market cap. Quarterly revenue and net income rose but new home orders declined and cancellations rose. U.S. new and existing home sales declined in reports issued this week.
RESTAURANTS
BJ's Restaurants Inc. (Nasdaq: BJRI) in Huntington Beach was up 5% to $64.70 and a $1.3 billion market cap. The casual dining chain reported higher quarterly revenue and net income.
Del Taco Restaurants Inc. (Nasdaq: TACO) in Lake Forest was down 5% to $12.75 and a $490 million market cap. The fast food chain reported a 20% decline in quarterly net income.