Midday Stock Roundup
Monday, July 23, 2018
Share this article: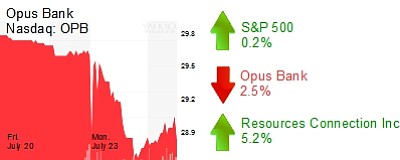 The S&P 500 increased 0.2% in midday trading to 2,806.26.
The Dow Jones Industrial Average was flat at 25,060.33.
The Nasdaq rose 0.2% to 7,832.69.
The yield on a 10-year Treasury bond climbed 2.3% to 2.96%.
The price of gold was 0.4% lower at $1,226.
FINANCE
Opus Bank (Nasdaq: OPB) fell 2.5% to $28.90 and a $1 billion market cap. The Irvine-based bank today reported second-quarter profit that topped analysts' consensus estimate. However, it also reported revenue of $62.5 million, which missed the average analyst consensus and was below last year's second quarter. The shares are still up 6.8% this year.
SERVICES
Resources Connection Inc. (Nasdaq: RECN) in Irvine rose 5.2% to $15.05 and a $474 million market cap. The shares on July 19 dropped 17% on July 19 after reporting fourth quarter results where revenue rose 24%, but gross and adjusted profit margins declined.