Taco Bell Goes Big Overseas
Wednesday, July 18, 2018
Share this article: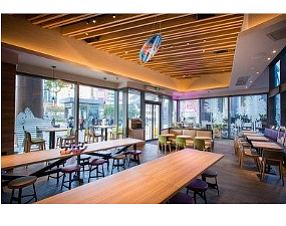 Taco Bell Corp. in Irvine signed current franchisees in Spain and Brazil to add 40 locations a year between the two countries over the next decade.
Agreements with Sforza Holding Group in São Paulo and Casual Brands Group in Madrid are Taco Bell's first master franchise deals, meaning the local operators find franchisees, collect fees, and give the chain a cut.
Master franchising can help brands expand faster; growth offsets lower per-store fees flowing to parent companies.
Sforza has opened 20 of its own franchised sites in two years;. It plans 200 more as a master franchisee;. CBG owns and runs 40 of its own franchised locations after 10 years in the system, and plans 200 under the new agreement.
Taco Bell wants 1,000 international locations, 9,000 locations overall and $15 billion in systemwide sales by 2022.
At the end of last year, it had 350 international locations, 6,900 locations overall and systemwide sales of $9.7 billion.
It's the largest OC-based restaurant chain and is owned by Louisville, Ky.-based Yum Brands Inc.