Midday Stock Roundup
Monday, July 16, 2018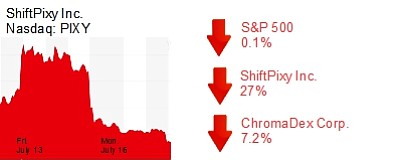 The S&P 500 fell 0.1% to 2,799.36.
The Dow Jones Industrial Average was flat at 25,026.25.
The Nasdaq dropped 0.2% to 7,811.62.
The yield on a 10-year Treasury bond increased 1% to 2.86%.
The price of gold declined 0.2% to $1,239.
SERVICES
Irvine-based ShiftPixy Inc. (Nasdaq: PIXY) plummeted 27% to $3.35 and a $96 million market cap. The provider of temporary and shift workers via an app, reported on July 13 that third-quarter revenue doubled to $9.4 million on a net loss of 6 cents a share. Before the results were announced, shares jumped 69% to $4.62.
NUTRITION
ChromaDex Corp. (Nadadaq: CDXC) in Irvine fell 7.2% to $4.21 and a $231 million market cap on volume at half of the daily average of the past three months. Shares in the nutritional ingredients maker are still up 31% since May 31.