Midday Stock Roundup
Friday, July 13, 2018
Share this article: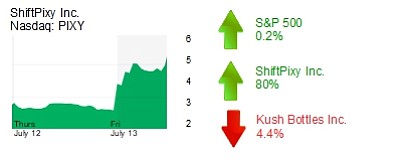 The S&P 500 was up 0.2% in midday trading to 2,803.56.
The Dow Jones Industrial Average up 0.4% to 25,034.10.
The Nasdaq was up 0.1% to 7,832.71.
The yield on a 10-year Treasury bond fell 0.6% to 2.84%.
The price of gold was 0.3% lower to $1,242.
SERVICES
ShiftPixy Inc. (Nasdaq: PIXY) in Irvine was up 80% to $4.98 and a $143 million market cap. The app-based temp agency for restaurants offered preliminary quarterly results: gross billings of $60.2 million, revenue of $9.4 million, and gross profit of $1.5 million; each figure was at least double its counterpart, year-over-year, and the company's net loss per share was roughly halved, to 6 cents from 11 cents. By midday it had traded 23 million shares compared with a 90-day average of about 200,000. It plans to report final numbers after markets close today.
MANUFACTURING
Kush Bottles Inc. (OTC:KSHB) in Santa Ana was down 4.4% to $4.98 and a $368 million market cap. The maker of products and packaging for cannabis companies said its revenue grew in its most recent quarter, while gross margins declined to 28% from 35% and its net loss was $2.2 million, compared with net income of $6,000 year-over-year.