Midday Stock Roundup
Wednesday, July 11, 2018
Share this article: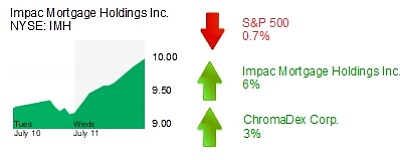 The S&P 500 was down 0.7% in midday trading to 2,776.05.
The Dow Jones Industrial Average declined 0.8% to 24,720.20.
The Nasdaq was down 0.5% to 7,722.51.
The yield on a 10-year Treasury bond dropped 0.6% to 2.86%.
The price of gold was 1% lower at $1,243.
FINANCE
Mortgage lender Impac Mortgage Holdings Inc. (NYSE: IMH) in Irvine was up 6% to $9.75 and a $205 million market cap. It recently said it will work with Greenwich, Conn.-based Starwood Property Trust on originating and securitizing nonqualified residential loans; Starwood said it will buy up to $600 million of "nonQM" loans from IMH over the next 12 months and that Impac can coinvest on Starwood-sponsored securitizations that contain them.
HEALTHCARE
ChromaDex Corp. (Nasdaq: CDXC) in Irvine was up 3% to $4.55 and a $249 million market cap. It makes supplements intended to improve metabolism and increase lifespan and today said a study showed its flagship product, a form of Vitamin B3, could be safely taken at high doses.