Midday Stock Roundup
Monday, July 9, 2018
Share this article: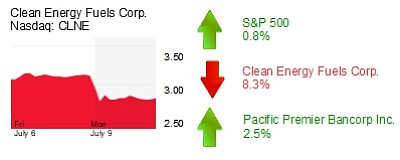 The S&P 500 was up 0.8% in midday trading to 2,780.96.
The Dow Jones Industrial Average jumped 1.3% to 24,761.33.
The Nasdaq was up 0.5% to 7,727.87.
The yield on a 10-year Treasury bond climbed 0.9% to 2.86%.
The price of gold was 0.3% higher to $1,260.
SERVICES
Clean Energy Fuels Corp. (Nasdaq: CLNE) in Newport Beach was down 8.3% to $2.92 and a $445 million market cap. Shares have plunged 21% since July 5, when a Raymond James analyst said there was "excessive euphoria" by investors to an investment in Clean Energy Fuels by global oil giant Total S.A.
BANKING
Irvine's-based Pacific Premier Bancorp (Nasdaq: PPBI) rose 2.5% to $39.10 and a $1.82 billion market cap. The shares have now increased three consecutive trading sessions after declining 12% from June 20 to July 3.