June Auto Sales Up
Tuesday, July 3, 2018
Share this article: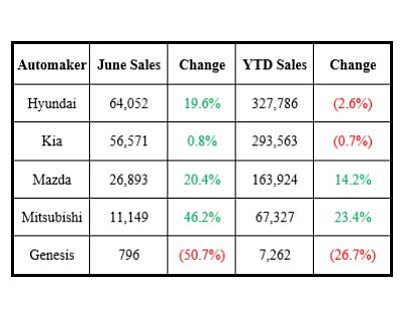 Nearly all OC automakers saw sales increases for June while year-to-date sales were mixed.
Hyundai Motors North America in Fountain Valley sold 64,052 units, an increase of 19.6%, but sales for the year dropped 2.6% to 327,786 vehicles. The South Korean automaker's Genesis brand saw sales drop 50.7%, selling 796 vehicles for the month. Year-over-year sales through June on the brand declined 26.7%.
Irvine-based Kia Motors North America saw a slight increase of 0.8% for the month, selling 56,571 units. For the year, sales were down 0.7% to 293,563 units.
Mazda North American Operations in Irvine reported total June sales of 26,893 units, an increase of 20.4%. For the year through June, sales were up 14.2% with 163,924 vehicles sold.
Mitsubishi Motors North American Inc. in Cypress had its best June sales month since 2007 selling 11,149 units, an increase of 46.2%. Year-to-date sales were 67,327 units, up 23.4%.