Midday Stock Roundup
Monday, July 2, 2018
Share this article: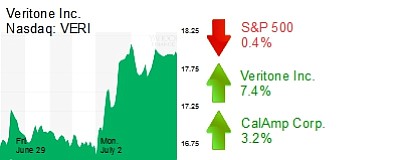 The S&P 500 was down 0.4% in midday trading to 2,707.99.
The Dow Jones Industrial Average fell 0.5% to 24,160.92.
The Nasdaq climbed 0.2% to 7,499.42.
The yield on a 10-year Treasury bond increased 0.3% to 2.86%
The price of gold was 0.9% lower to $1,244.
TECHNOLOGY
Costa Mesa's Veritone Inc. (Nasdaq: VERI) climbed 7.4% to $18.03 and a $325 million market cap. Shares in the AI software maker are 10% higher in the past two trading sessions.
CalAmp Corp. (NASDAQ: CAMP) in Irvine rose 3.2% to $24.18 and an $853 million market cap. Shares in the fleet management software maker have climbed 14% since June 27 when it reported fiscal first-quarter revenue and profit that topped analyst consensus estimates.