Midday Stock Roundup
Wednesday, January 31, 2018
Share this article: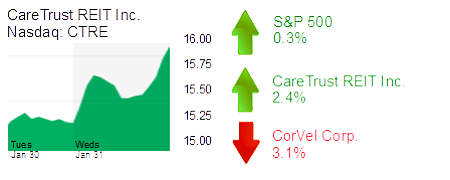 Indices have settled into standard territory after early morning surges sparked by President Trump's State of the Union speech last night.
The S&P 500 was up 0.3% in midday trading to 2,829.12. The Dow Jones Industrial Average rose 0.6% to 26,221.98. The Nasdaq climbed 0.3% to 7,426.73.
The yield on a 10-year Treasury bond was 0.4% up to 2.74%.
The price of gold was 0.3% higher to $1,344.
HEALTHCARE
CareTrust REIT Inc. (Nasdaq: CTRE) in San Clemente rose 2.4% to $15.77 and a $1.1 billion market cap on moderate volume. The company owns and leases senior housing and healthcare-related properties.
SERVICES
CorVel Corp. (Nasdaq: CRVL) in Irvine was down 3.1% to $52.75 and a $994 million market cap. The provider of insurance services said net income in its most recent quarter grew to $9.6 million from $7 million, year-over-year, but the change resulted largely from an income tax provision that dropped to $500,000 from $4.4 million in the same period last year. Higher revenue--$140.7 million from $128.4 million—was offset by higher cost of revenue—$115.2 million from $102.8 million.