Midday Stock Roundup
Friday, January 26, 2018
Share this article: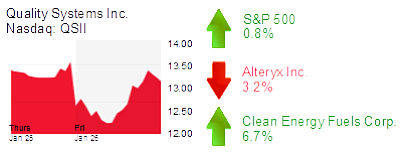 The S&P 500 was up 0.8% in midday trading to 2,860.77.
The Dow Jones Industrial Average rose 0.5% to 26,519.16.
The Nasdaq climbed 0.9% to 7,474.17.
The yield on a 10-year Treasury bond jumped 1.4% to 2.66%.
The price of gold was down 0.8% to $1,352.
HEALTHCARE
Quality Systems Inc. (Nasdaq: QSII) in Irvine was down 3.2% to $13.16 and an $838 million market cap. It had net income of $1.5 million on revenue of $131.7 million in its most recent quarter compared with $10.5 million on $127.9 million year-over-year. Quality Systems makes medical and dental practice management software.
TECHNOLOGY
Clean Energy Fuels Corp. (Nasdaq: CLNE) in Newport Beach was up 6.7% to $1.75 and a $264 million market cap. The company, which provides natural gas fuel to vehicle fleets, said today sales of its flagship product rose 32% in 2017 to 79 million gallons and that it had won a three-year deal to supply the fuel to North County Transit District, in North San Diego County. The company will provide 1.5 million gallons annually to NCTD's 167 buses.