Midday Stock Roundup
Thursday, January 25, 2018
Share this article: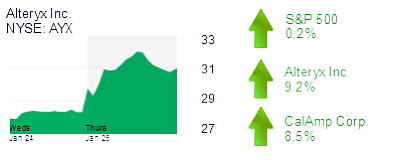 The S&P 500 was up 0.2% in midday trading to 2,841.99.
The Dow Jones Industrial Average rose 0.6% to 26,400.80.
The Nasdaq climbed 0.1% to 7,425.88.
The yield on a 10-year Treasury bond fell 0.9% to 2.63%
The price of gold was 0.3% higher to $1,360.
TECHNOLOGY
Alteryx Inc. (NYSE: AYX) in Irvine was up 9.2% to $30.40 and a $1.8 billion market cap. Shares in the data analytics software maker had by midday traded at 2.5 times its 90-day average.
CalAmp Corp. (Nasdaq: CAMP) in Irvine was up 8.6% to $24.74 and an $881 million market cap. JP Morgan upgraded shares in the fleet management software maker to "neutral" from "underweight"—reversing its Oct. 2017 downgrade—with a price target of $25. Shares had by midday traded at twice CalAmp's 90-day average.