Salaam Heisman Fetches Nearly $400K
Monday, January 22, 2018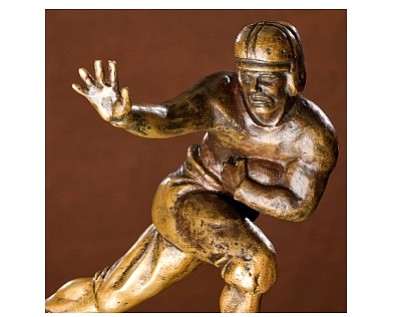 Rashaan Salaam's Heisman Trophy attracted nearly $400,000 in an auction run by Laguna Niguel-based SCP Auctions.
The winning online bid of $399,608 at the close of the 12-day auction on Saturday was a record, according to published media reports. The previous auction sale record for a Heisman was $395,240 for Bruce P. Smith's 1941 award, followed by Larry Kelley's 1936 trophy, which brought $328,100, according to SCP.
Salaam rushed for 2,055 yards and 33 touchdowns in his junior season in 1994 at Colorado University in the lead-up to his Heisman win.
A few months later, he wsas drafted in the first round by the Chicago Bears. He played five years in the NFL.
Denver venture capitalist Tyler Tysdal, who put up the award for auction, told CBS Sports he intends to donate the proceeds to research on Chronic Traumatic Encephalopathy, or CTE.
Salaam committed suicide in December 2016 at a Boulder, Colo., park in the shadows of CU's Folson Field.
His brain was never tested for CTE, a progressive degenerative brain disease found in several former NFL players and other athletes with a history of repetitive brain trauma that has led to depression, dementia and suicide.
The auction was embroiled in controversy as Salaam's mother, Khalada, contends the trophy was stolen, but SCP maintains it received proper documentation from Tysdal.
SCP, established in 1979, has brokered or auctioned some of the biggest sports memorabilia deals in history, including the famed T206 Honus Wagner baseball card, which fetched $2.8 million; a Jesse Owens gold medal from the 1936 Olympic Games, which drew $1.4 million; and the bat Babe Ruth used to hit the first home run in Yankee Stadium, which attracted $1.3 million.