Midday Stock Roundup
Tuesday, January 16, 2018
Share this article: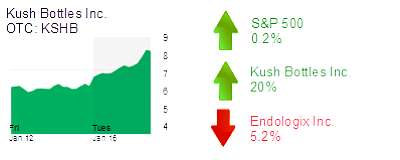 The S&P 500 was up 0.2% in midday trading to 2,792.72.
The Dow Jones Industrial Average rose 0.5% to 25,933.64.
The Nasdaq climbed 0.2% to 7,272.76.
The yield on a 10-year Treasury bond increased 0.3% o 2.56%.
The price of gold fell 0.1% to $1,334.
CANNABIS
Kush Bottles Inc. (OTC: KSHB), jumped 20% to $7.89 and a $473 million market cap. The Santa Ana-based distributor of cannabis paraphernalia reported today that fiscal first-quarter revenue climbed 258% to $8.85 million.

HEALTHCARE
Endologix Inc. (Nasdaq: ELGX) declined 5.2% to $4.35 and a $363 million market cap. Shares of the Irvine-based maker of endovascular stent grafts dropped 19% in the first two weeks this year.