Habit Speeds Up
Thursday, January 11, 2018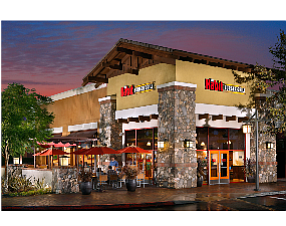 Habit Restaurants Inc. in Irvine said half its openings this year and most in 2019 will include drive-thru options for time-strapped customers.
The note came on a slide during its presentation at the ICR Investor Conference in Orlando last week.
The move may sound as obvious as grilled onions on an In-N-Out Double-Double but for fast-casuals like Habit drive-thrus have been more like mustard on French Fries—people do it somewhere but not us.
The chain in 2010 had two drive-thru locations out of 46 total; at the end of last year it had 22 of 209; by the end of 2018 it expects 35 to 38 of about 240 to be drive-thru.
"The initial perception was to stay away from [it] because it was too much like fast food but now it's more accepted," said Jeff McNeal, president of hospitality and food consultants Fessel International in Monrovia.
Habit is closer to In-N-Out in price and positioning than to, say, Shake Shack, he said, and In-N-Out drive-thrus regularly extend well into their parking lots.
Other big food sellers at various levels—Chick-fil-A, Starbucks, Panera—do drive-thru; McNeal said the latter two were "late to the … game but both (have) had success with it."
It responds to "shifts in their customer [and will] add sales and expand their options," he said.
It will also hike Habit's costs.
The ICR presentation said locations without drive-thru cost about $810,000 apiece to build, while drive-thru restaurants run $1 million to $2 million, depending on type and where it's located in a retail complex.
Drive-thru sites are bigger "and they need to pay more for premium vs. in-line locations," McNeal said.
Habit added 30 locations in calendar year 2016 and 37 in 2017; 90% of locations are company-owned.
It traded (Nasdaq: HABT) recently at a $237 million market cap.