Midday Stock Roundup
Tuesday, January 9, 2018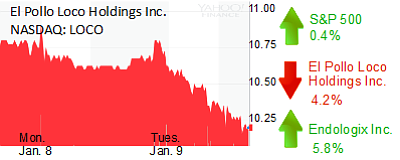 The S&P 500 was up 0.4% in midday trading to 2,758.44.
The Dow Jones Industrial Average increased 0.6% to 25,429.64.
The Nasdaq climbed 0.3% to 7,176.16.
The yield on a 10-year Treasury bond jumped 2.3% to 2.54%.
The price of gold fell 0.6% to $1,313.
HEALTHCARE
Irvine-based Endologix Inc. (Nasdaq: ELGX) rose 5.8% to $4.87 and a $406 million market cap. Executives at Endologix, a maker of endovascular stent grafts, yesterday made a presentation at the 36th Annual J.P. Morgan Healthcare Conference in San Francisco.
RESTAURANT
Costa Mesa's El Pollo Loco Holdings Inc. (Nasdaq: LOCO) fell 4.2% to $10.20 and a $394 million market cap. Company executives are scheduled to present today at the 20th Annual ICR Conference in Florida. The stock is down about 31% since its 52-week high last June.